Interview with the founder
Inspired by her move to the Netherlands in 2019, Sanaa has now launched Amiisi, realizing her dream of connecting women from different walks of life through fashion.
---
Q: Why shirt dresses?
A: I was looking for a comfortable, fashionable and timeless garment to solve the daily wardrobe hassle every woman faces.
The shirt dress is a timeless wardrobe staple. I would rather call it the chameleon outfit. You can easily dress it up or down depending on the time of the day and the nature of the event.
Q: Can you tell a bit more about your sources of inspiration for the designs?
A: While designing, I had both Beirut's architecture and the modern woman in mind. My aim is to create a unique design but also to preserve the comfort of the shirt dress. A design that stands out yet blends in everywhere in the world and brings people together.
Q: Whom are Amiisi's dresses for?
A: Amiisi's dresses are for the busy modern woman who, despite her tight schedule juggling work, family and social events, still wants to look nice.
Q: What was the most difficult thing about moving to the Netherlands and starting from scratch here?
A: You build these walls in your head, that I might not fit in, that the Dutch culture might be different from mine. But once I settled in Amsterdam, I was drawn to the same pattern I've seen everywhere in the world. Be it London, Beirut, Istanbul, Amsterdam, Dubai, Sydney, etc. They all have the same pattern. The fashion struggle of the busy woman. This pattern proved to me how women are connected all over the world. This drive to achieve more and better ourselves while looking on point is astonishing. My goal is to ease the fashion struggle women all over the world face.
Q: How was it to start Amiisi in the middle of a pandemic?
A: To create and develop a brand during a pandemic was similar to walking through a minefield. Every now and then, a new hurdle comes up and more delays take place. Lockdowns were unpredictable, which was felt through the entire supply chain.
Suppliers even faced uncertainty about orders from their loyal existing clients, let alone from new ones, making trust a key element. However, despite all the problems we have faced this past year, our drive and motivation only grew stronger. We had an even deeper urge to work hard and persevere in order to reach our goal and launch Amiisi.
Q: What makes Amiisi a sustainable brand?
A: Due to the pandemic, the fancy wardrobe was suddenly put to rest. The demand for casual clothes skyrocketed and the search for one outfit that fits all began. So, I saw it as an opportunity to realize my dream of reducing fashion waste by producing garments that are worn more often because they are multi-functional and durable.
With Amiisi shirt dresses, women do not need to buy a new outfit for every other event or purpose, be it a work meeting, lunch with family, drinks with friends or traveling. All you need to do is add or change accessories and voila, you are ready for your next event! Thus, less garments ending up in landfills and polluting our environment after they have been worn once or twice.
Since my days at Marangoni London, I wanted to help save the environment, but also create a more ethical workplace for manufacturers and employees. Sustainability starts at the workplace and goes beyond sustainable materials. It is a whole process with many steps of environmental awareness and a fair way of dealing with everyone involved.
Q: Amsterdam, Beirut or Dubai?
A: Beirut will always have a special place in my heart.  Amsterdam is like a dream city to me. Dubai is all about speed and the will of human beings to progress. But every city has its own charm and magic.
Q: You were in Beirut working on Amiisi when the devastating explosion at the port happened. Can you tell us a bit more about this horrific experience? And why did you decide to continue working in Beirut with such turbulent circumstances?  
A: On that 4th of August, around 18:00, my mother and I were at a fabric shop in Achrafieh, Beirut, as I wanted her opinion on the fabrics I had in mind for the first design round. The shop we were at is one of the oldest fabric shops in the area, located in a beautiful, traditional Lebanese building right next to a landmark villa in Beirut, called "Villa Sursock".
As we were wrapping up the meeting, it suddenly sounded like a jet was breaking the sound barrier, and, in the blink of an eye, everything felt like a blur to me, as if the world had just collapsed.
The blast—complete mayhem.
My experience pales in comparison with what happened to the families who lost their loved ones, to the people who lost their homes, to my country.
But I decided to channel whatever trauma this experience may have caused me into positive energy. To push beyond any limits, to work towards my goals, and, most importantly, to create job opportunities in Lebanon, rather than dwell on the misery and calamity that have surfaced. I decided to believe that even a near-death experience will not extinguish the creative flame in me, or in any Lebanese.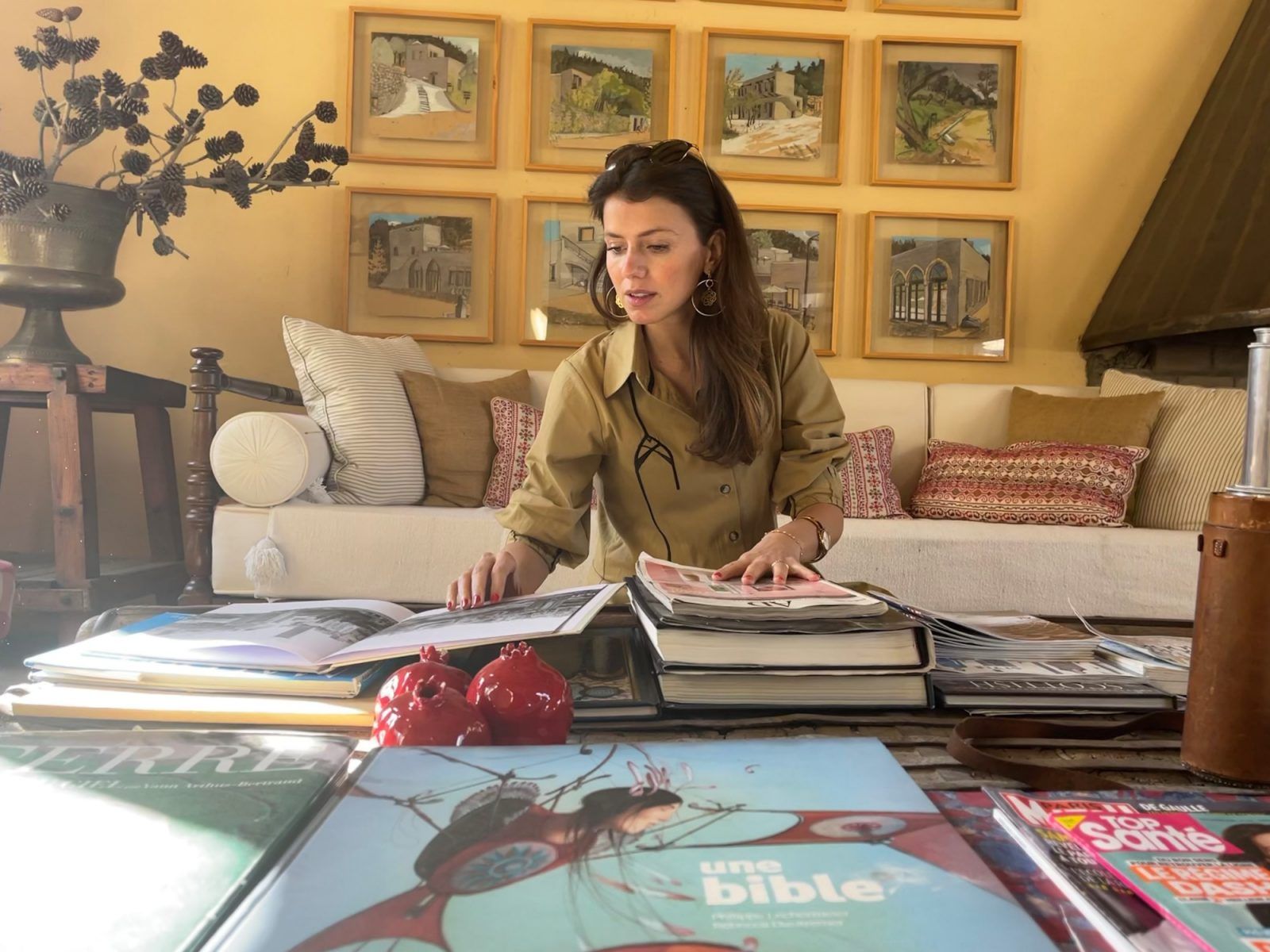 ---
Related products