Talliya
Arched faded brown Shirt Dress
Summer haze in one dress!
---
---
– Colour: Faded brown
– Arched cut
– Elbow length sleeves
– Rolled up cuffs
– Semi-spread collar
– Self-tie belt at waist for a structured silhouette
– Amiisi monogram placed on hemline

– Regular fit

– Our model is 1.70 in height

– Our model wears size XS

| | |
| --- | --- |
| | Fabric: 100% Cotton |
| | Wash at 30 degrees Celsius |
| | Do not bleach |
| | Iron at medium heat, on reverse |
| | Do not tumble dry |
| | Wash with similar colours |
| | Made in Lebanon, with Love |

Free shipping: All orders shipping to the Netherlands, Lebanon, and the UAE.

€9,00 shipping costs: Orders shipping to the rest of the European Union, the United Kingdom, Switzerland, KSA, Kuwait, Qatar, Bahrein and Oman.

€19,00 shipping costs: United States, Canada, Albania, Andorra, Belarus, Bosnia And Herzegovina, Faroe Islands, Gibraltar, Greenland, Holy See (Vatican City State), Iceland, Liechtenstein, Macedonia, Moldova, Montenegro, Portugal (Azores), Portugal (Madeira), Russian Federation, Serbia, Turkey, Ukraine.

€39,00 shipping costs: All other countries.

Please note:

Free exchanges & returns for orders within the Netherlands, Lebanon, and the UAE.
For orders sent outside the EU, import duties and taxes may apply to the order. Any import duties and taxes payable will be the sole responsibility of the customer and may need to be paid at the time of delivery.

Delivery times:

Parcels will be handed over to the carrier within 24 hours – deliveries may be delayed depending on carriers' COVID-19 measures.

In the Netherlands and Lebanon orders will be delivered within four business days.
In the UAE orders will be delivered the same day.
Orders to countries in the EU or the Gulf will take 3-8 business days.
Orders to other countries will be delivered within 10 business days.
RELATED PRODUCTS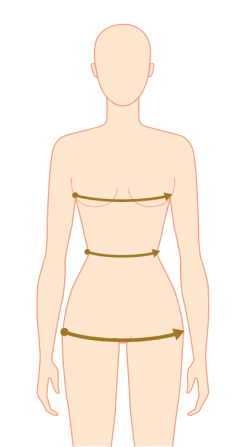 Size Guide
These measurements have been taken on the body to help you find your Amiisi size. Please note that these are not item measurements.
Size
1. Full Bust (cm)
2. Full Waistline (cm)
3. Full Hipline (cm)

2. Full Waistline (cm):

61-64

3. Full Hipline (cm):

86-89

2. Full Waistline (cm):

65-68

3. Full Hipline (cm):

90-93

2. Full Waistline (cm):

69-72

3. Full Hipline (cm):

94-97

2. Full Waistline (cm):

73-76

3. Full Hipline (cm):

98-101

2. Full Waistline (cm):

77-81

3. Full Hipline (cm):

102-105

1. Full Bust (cm):

98-103

2. Full Waistline (cm):

82-86

3. Full Hipline (cm):

106-111

1. Full Bust (cm):

104-108

2. Full Waistline (cm):

87-93

3. Full Hipline (cm):

112-116